DESIGN CHALLENGE
"I don't use Piz Buin, but my mother used to."

Johnson & Johnson presented us with the design challenge of updating the packaging, brand, and retail identity of their once-popular European sunscreen brand, Piz Buin.
Working on-site in Berlin for two months, we studied the people, the culture, their attitudes about suncare, and current lifestyle trends to ultimately produce an updated brand, product, and retail solution.
ON-SITE RESEARCH

We were quickly introduced to the ubiquitous influence and integration of mobility, transportation, and travel in the daily lives of Europeans.
After focusing our ethnographic research more deeply on European transportation and travel patterns, we shaped our concept to reflect the "movement" and "on-the-go" nature of the European market.
PRODUCT DEVELOPMENT
Simplifying the existing product line-up with simple pre, post, and in-sun options; bottles were also color-coded for shelf impact.
The form signals a forward momentum / movement, inspired by the cobblestone tiling of European roads.

Lid acts as its own bottle: pumping sunscreen up from the main bottle, the detachable unit holds travel-sized quantities (35ml) of sunscreen to take on-the-go.
The portable units can stack and easily pack into an overnight bag for a weekend getaway or next adventure.
SPATIAL APPLICATION
– "SUN SPOT": BRANDENBURG AIRPORT, 2014
Creating a portable, pop-up retail experience with a flexible rib system that can easily be set up and transported to various locations where travelers gather.
Travelers can pick up last minute sun supplies, see current sun conditions at destination cities, and refill existing bottles.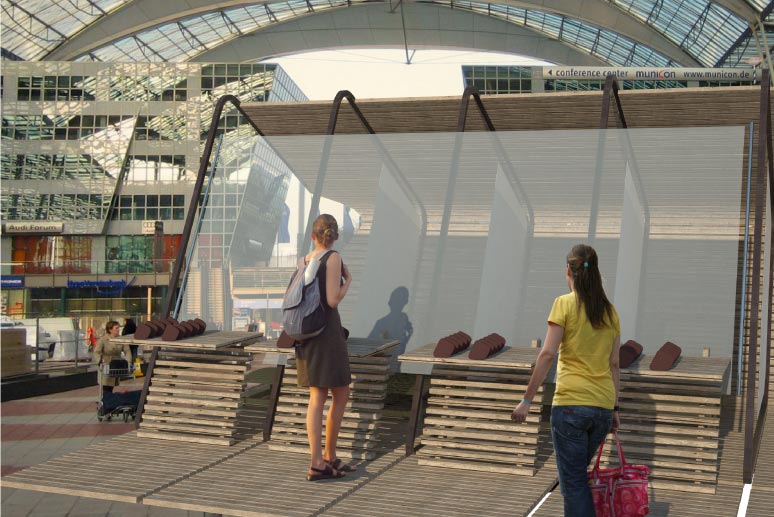 The lightweight modular building system allows for flexibility to adapt to different pop-up environments.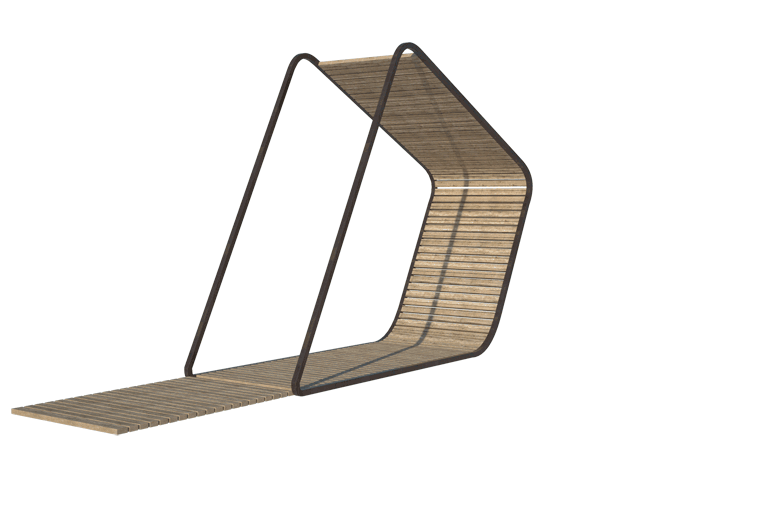 PRODUCT / RETAIL DISPLAY MOCK-UP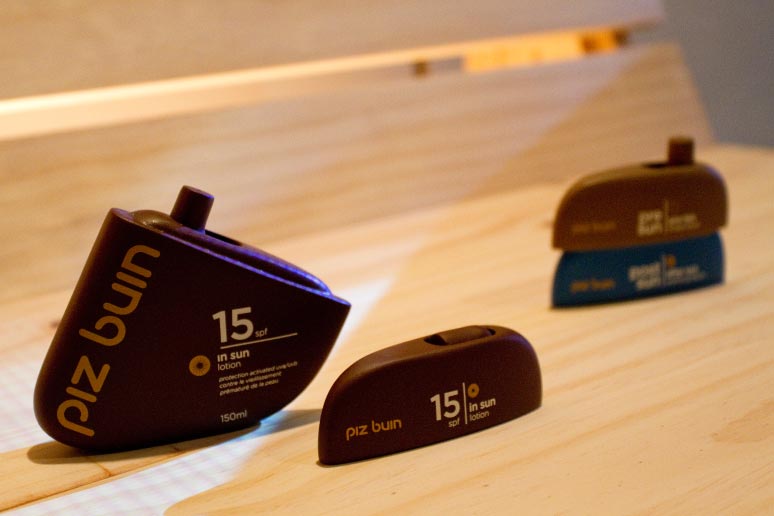 For a more in-depth look at the research presentation for this project, you can download it
here
.